How to estimate the cost of a new build home?
Tweet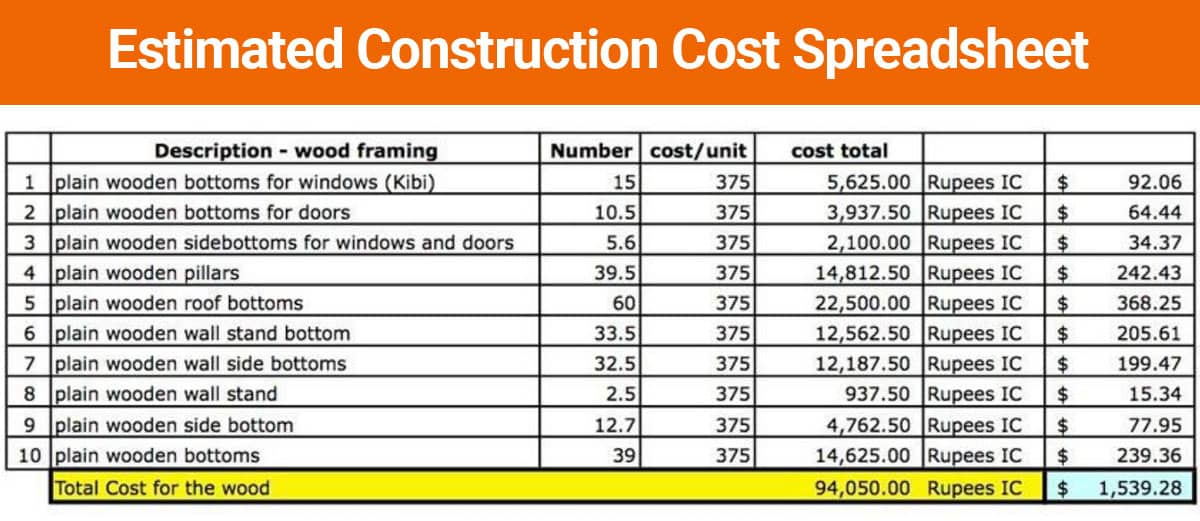 One of the biggest investment in today's world is investing in making homes. You can ask anyone on the street and they will tell you- in detail-what their dream home would be.Some people will dream of a big kitchen. Others will imagine a cosy bedroom with fireplace.
What their dream have in common is the full package has to be fit in one plan. To execute the plan, we have to analyse how much cost is to be paid in order to build our dream home. Therefore, finding out the pre cost of our expenditure is know as cost estimator.
Estimating has always been one of the weakest links in the construction process. Many failed because of poor estimating practices. As common a problem as estimating appears to be, a systematic approach is clearly needed. Accurate construction estimating is an essential skill for every successful professional contractor.
Establish your floor plan
The most common graphic view is the floor plan, presented as if the viewer is looking down on the space. Floor Plan views form the basis of the project and often provide the most complete view. The most common floor plan view is the 'architectural floor plan' which shows windows, walls, and partitions. It provides the "big picture" view of the space.
Next we should find out a local builder who routinely constructs new homes and buildings. It is important to find a good builder because it is on him who has to execute the plan on a certain timeline within a limited budget and at the same time he should be able to give an appropriate idea of what our home might cost to build. It is always a good idea on our end to ask what exactly the new home construction cost includes.
Understanding material and labour cost-
Material cost

Material such as cement, bricks, bamboos, steel rods are some of the main components to build a home. A proper judgement of material per unit to be bought is the key to success in cost estimation. There are some unpredictable and uncontrollable reasons to add waste, including theft, damage from weather, damage by other trades, human error. This waste can be accounted for by adding a percentage to the lump-sum quote provided by the supplier.

Cost of labour
The cost of labour is the total amount of wages paid to employees as well as the cost of employee benefits and pay roll taxes paid by the employer. There are two types of cost of labour
Direct labour cost
Indirect labour cost

Direct labour cost include wages of employees. It is the agreement which is made between the employee and the employer. It is a collective bargaining agreement. Some times the employer provides certain benefits to employee. Such as medical relief, paid sick leave, retirement package contribution etc. The costs of these benefits are typically included within the calculation of the wages. These benefits represent a cost to the employer that must be recovered.

Indirect labour costs are associated with support labour, such as employees who maintain the equipment or the watchman of the construction site. These cost has to be considered while making estimating cost as it refers to the wages paid to workers whose duties enable others to perform services.

The quality take off and pricing

Before beginning an estimate, it is important to thoroughly review the contract documents, which usually include:

A set of plans
A set of specifications
Any related addenda or bulletins
Additional relevant documents, such as geotechnical reports and any special documentation or unique requirements from local authorities. The quantity take-off, sometimes called the quantity survey, breaks the project down into its elemental parts, called tasks or activities. (For the purpose of estimating, these terms are interchangeable.)

Predicting overhead cost

Contractors with a history of success have a distinct advantage over new, growing companies. Over time and with the completion of multiple power , experienced contractors have the ability to regulate and establish indirect overhead costs through a series of reviews and adjustments until they have determined their typical overhead costs.

This allows them the opportunity to forecast future indirect costs based on trends and a business plan for future revenues. While the formula is not always exact and can change as personnel and resources come and go, it is a fairly good indicator of what overhead will be and the volume of work the investor needs to maintain to be financially sound.

Therefore, In any construction work, it is very important to get the estimation of the construction in one place at orderly manner.

Below picture shows the construction cost spreadsheet