Bar Bending Schedule Spreadsheet
Tweet
An essential tool for everyone who is involved in detailing reinforcement in accordance with Indian Standard. Whether you are a designer, detailer, contractor, or a manufacturer/supplier this spreadsheet will help you save a lot of time when preparing bar lists and when sorting, optimizing, tagging, etc rebar.
It is an essential tool for detailing reinforcement as per Indian Standard. You may be a designer, contractor, detailer, or supplier/manufacturer, the bar bending schedule spreadsheet can assist you in saving time while preparing bar lists, arranging, optimizing, or tagging them.
The simple and intuitive interface of this spreadsheet helps you to quickly provide the information in a neat format. To fasten the input process, this spreadsheet has a shape code pop-up window. You may check the above video to understand the bar input process.
To make the interface user-friendly, there are several features available in the spreadsheet. These features include steel grades, bend and hook lengths, etc. These features are fully editable as per the user's bending method such as a machine or manual bending. It further allows users to change the materials in the spreadsheet that one is using.
Arranging and personalization are performed based on four user-defined levels of priority. A user can choose to arrange my material's diameter/length/bar mark or by material's weight/length or any other order. It also permits a user to modify the length of bar stock to reflect the current availability in stock. It allows you to also change the weight limitations for grouping rebar and putting individual tags.
Personalization is done using a very complex algorithm to make sure that minimum waste and offcuts are achieved. These aspects make the cutting a reasonable affair. The personalized sheet can display bar lengths to be cut, and the bar marks. Due to this, it's very easy to point out the optimized cut lengths and how each length can be bent. Sorting and personalization are performed according to user-defined order. That's why it provides full control on the sorted bar list.
The bar tags are quite obvious and simple to read. This makes sure of good communication between various stakeholders such as people from production, delivery to site, and installation site. The delivery note provides a summary of the entire rebar delivered to a particular site. This allows an easy way to check whether things are delivered as per requirement.
Some of its salient features are
A clear and easy to read schedule;
Very fast input of bars and bend lengths (bar shape diagrams are shown instantaneously);
Bar shape diagrams automatically shown based on bar shape code;
Bar dimensions shown on bar shape diagrams;
Window pop
up with shape codes for easier use (can be disabled);
Optimisation, tagging, sorting, delivery note;
Four user
defined priority levels for sorting;
Optimized sheet gives cut lengths and associated bar marks;
Editable stock bar lengths per bar diameter;
Editable maximum rebar group weight per each tag;
Editable steel grades. By default the following are selected: fe415, fe500, fe550;
Editable bend and hook lengths;
50 bar shapes (32 from IS 2502 plus 18 additional shapes);
Automatically inputs minimum hook and bend allowances
steel grade dependant;
Highlights lengths that have to be entered
bar shape code dependant;
Gives total weights and lengths per each bar size
on a separate summary sheet;
Compatible with older versions of Excel, like Excel 2007;
Schedule in accordance with Indian Standard (IS 2502: 1999).
Download Bar Bending Schedule Spreadsheet to IS 2502: 1999
TECHNICAL ADVICE
If bar shape diagrams are offset on your computer then in the spreadsheet click 'Actions and Settings' button in the top right corner, then click 'Settings' button and at the bottom you have two boxes to adjust diagrams' locations. Try different values (typically 1-50) to find the correct offset.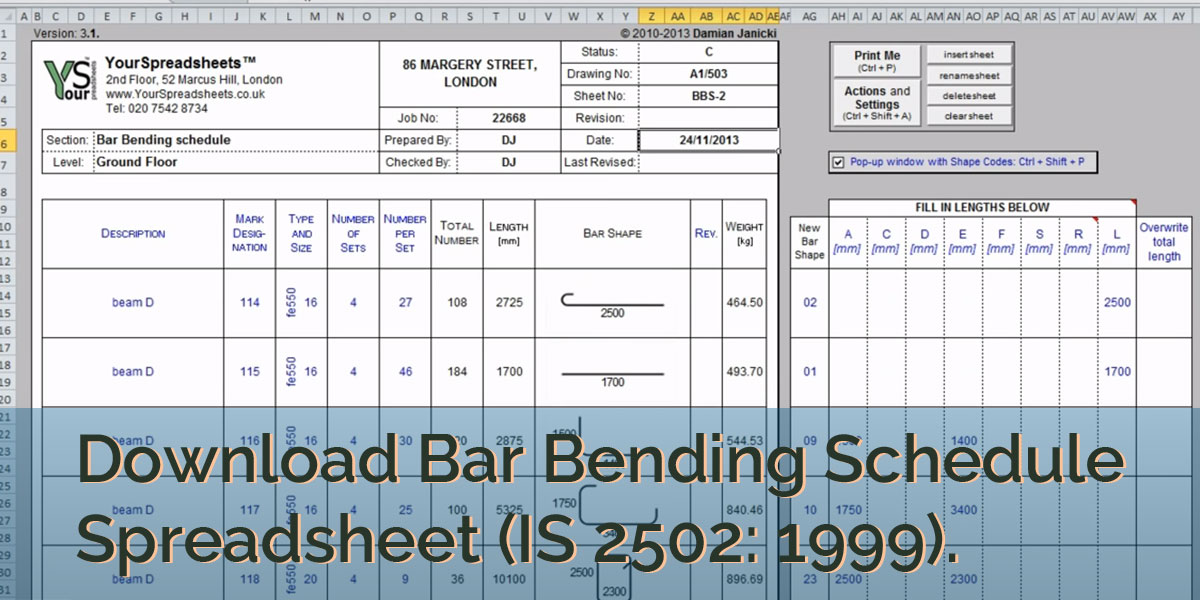 Image courtesy: http://www.yourspreadsheets.co.uk